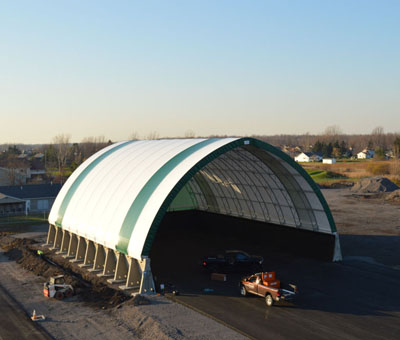 There are many types of engineered fabric and coverall building solutions on the market. How do you know which type of building is best for you?
The first thing to consider is what is the primary objective?  For example, will the fabric building being used for equipment or material storage (ie. salt or sand), recreation, agricultural, etc?  Depending on the application, there are a variety of building models specifically designed for those purposes.
Another feature to evaluate is the height of the building. Will you need to have cranes within the building to access piles of salt or sand? If so, the Calhoun HT Series, may be of interest.  The HT design is ideal for those customers looking for extra interior height in their structure. The extra height and clear span space makes unloading large trucks easy and worry free. The HT design also makes it a "tank" in heavy snow load areas.
Geographic features are also of importance. Is the location where the building will be installed level?  Is there sufficient space for the type of building you desire? Further consideration should be given to the weather conditions.  How much snow do you anticipate? Is extreme wind likely?  If so, and you have an open entrance, which way should the building face? You may want the building to face away from the wind.
These are all questions that the experienced professionals at Hybrid Building Solutions will review with you to determine the best location and positioning of your engineered fabric building. If you have questions about a fabric building or would like a free estimate on your project, please feel free to contact us today.