Industrial Storage & Fabric Warehousing
COLD STORAGE BUILDING AND FABRIC WAREHOUSING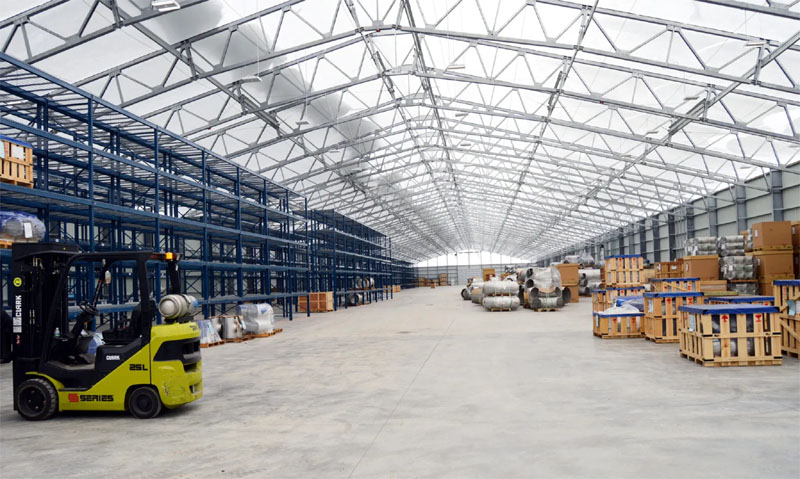 Whether you need heavy equipment storage and machinery, a cold storage building, or a general commercial storage building for raw materials or finished products, our commercial fabric buildings are the ideal solution. Hybrid custom-engineers products for versatility, durability, and the unique needs of each building project while protecting your investment and assets.
BUILT TO LAST
Our steel trusses and truss components for your cold storage building or commercial fabric buildings are hot-dipped galvanized to resist corrosion allowing your commercial fabric building to last generations while saving you time and money. We use non-corrosive tension fabric covers to provide superior ventilation and air quality eliminating moisture, reducing rust, and improving asset longevity of your cold storage.
Our custom-engineered structures offer significant widths and heights allowing ample clearance for ease of access and movement to and from your commercial fabric building so you can safely and easily load, unload, and handle your material assets.
APPLICATIONS OF COMMERCIAL STORAGE FABRIC STRUCTURES
Fabric commercial buildings are a spacious, affordable, and cost-effective use of space that makes them suitable for use as storage, manufacturing facilities, and warehouses alike. We use fabrics such as HDPE and PVC fabric to ensure the equipment you rely on and the products you've worked so hard to perfect are safe from the elements no matter your location. The protected nature of our storage structures and the natural light that comes in through the fabric makes them great for manufacturing and warehouse facilities.
Additional applications of commercial storage fabric structures include:
Assembly and welding facilities
Bulk storage
Distribution facilities
Equipment storage
Material storage
Manufacturing facilities
Portable carports
Supplies storage
Warehouse facilities
Hybrid Building Solutions has built our brand by installing fabric commercial storage buildings that are engineered to last no matter their use or application. We pride ourselves on creating versatile custom buildings that are designed to withstand your unique demands as well as your location's landscaping and climate. Whether you need more storage for agriculture, equipment or bulk materials, we're ready to create a unique, durable solution for you.
If you'd like to learn more about our fabric warehouses and industrial storage solutions, please contact us.