Fabric Building Installations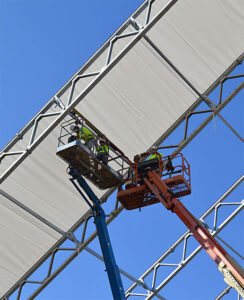 Looking to have a fabric building installed onsite? You've come to the right place. Hybrid Building Solutions is your trusted source for steel and fabric building installations.
EXPERIENCED INSTALLERS OF:
Salt & Sand Storage Buildings
Storage Buildings & Warehouses
Agricultural Buildings
Equestrian Riding Arenas
COMMITMENT TO EXCELLENCE
We approach every project with an open mind and a desire to exceed customer expectations. No matter your installation needs, we will try our best to accommodate and excel.
ACTIVE & INVOLVED SERVICE
We are involved every step of the way with your installation. One of our owners, Bryan, project manages each and every installation to ensure everything is done safely, efficiently, and properly.
RAPID CONSTRUCTION & INSTALLATION
Our buildings can be quickly erected. Our factory trained, OSHA Certified Crews are very efficient and safe in every installation.
OSHA CERTIFIED & EXPERIENCED CREW
Safety is our number one priority. All of our crew is OSHA certified, many with the OSHA 30-hour certification. In addition, the crew has over 21 years of installation experience combined.
QUESTIONS OR QUOTATION ON FABRIC BUILDING INSTALLATIONS
Please submit the brief form below and we'll follow-up with you as soon as possible.