A fabric covered storage building is an ideal solution for salt and sand storage, indoor riding arenas, recycling facilities and countless other storage applications. Municipalities often consider tension fabric buildings due to their expansive size, height and non-corrosive materials.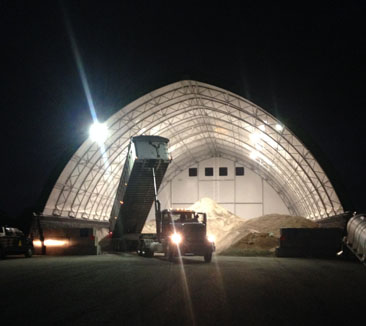 Fabric buildings can provide a number of benefits to traditional buildings:
Cost effective
Natural light inside
Modular design
Galvanized steel to minimize corrosion
Extra height options to fit a crane as well as raise a dump truck
Strong steel frame with durable fabric
At Hybrid Building Solutions, our crews work all year round to install the highest quality fabric buildings. These durable structures are designed to withstand fierce winds, snow and hail. Spring and summer are a great time to get started with a fabric building. Once our team has reviewed your project specifications – we'll discuss the best approach for your application.
If you are creating a salt/sand storage building, we can work with you to get this completed before winter. There are many factors to consider and we'll discuss all the options with you.
If you have any questions or would like a free quotation, please contact us.