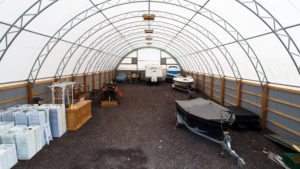 The Calhoun CC Series fabric structure is an ideal solution for a multi-purpose covered storage.  This building can scale to massive sizes.  The Calhoun CC Series can be used to store farm equipment, hay, cattle, RV's, salt, sand and any just about any other storage needs.
Our Compression Coupler structure combines a coupler and gusset to allow for a longer transfer of pressure over the connecting cords. This design allows us to achieve greater design capacity over the competitor's flat plate gusset design that transfers pressure to the end of the tube only.
Contact Hybrid Building Solutions today for a free estimate.