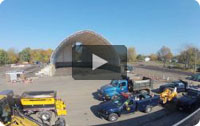 Salt Storage Buildings
Fabric buildings are the no-rust solution for medium- to large-volume salt and sand storage and dispersal.
Fabric is a naturally non-corrosive material, which will not be harmed by storing corrosive materials such as salt. The steel building frame can be hot dip galvanized to prevent corrosion, and, for the ultimate protection, a fabric liner can be added to keep the steel out of contact with salt.
View Salt Storage Buildings